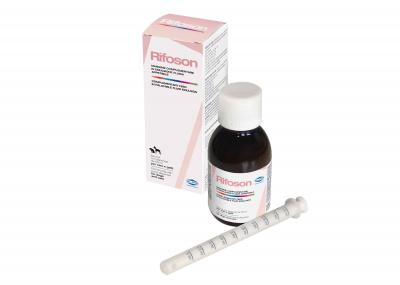 Complementary feed for dogs and cats with Passion flower, Valerian and California poppy
Palatable fluid emulsion for dogs and cats
COMPOSITION:
Malt (Barley malt extract), Yeast products. ADDITIVES PER KG OF PRODUCT: NUTRITIONAL ADDITIVES: 3a300 Vitamin C (Ascorbic acid) 2,000 mg, 3a831 Vitamin B6 (Pyridoxine hydrochloride) 2,000 mg, 3a315 Niacinamide 10,000 mg, 3b801 Selenium 10 mg (Sodium selenite), 3c301 DL-Methionine, technically pure 10,000 mg, 3c440 L-Tryptophan 80,000 mg. SENSORY ADDITIVES: Passiflora incarnata extract (sb) 10,000 mg, Valeriana officinalis roots extract 20,000 mg, Eschscholzia californica tincture 30,000 mg, Camellia sinensis (L.) O. Kuntze Tea extract 60,000 mg. TECHNOLOGICAL ADDITIVES: Preservatives. ANALYTICAL CONSTITUENTS (AS IT IS): Moisture 50.03% - Crude protein 17.00% - Crude fibre 0.01% - Crude fat 0.15% - Crude ash 2.00% - Magnesium 1.00%.
INSTRUCTIONS FOR USE:
Orally or in the daily meal twice a day according to the following quantities:
Cat and Dog up to 10 kg: 2 ml
Dog 10-20 kg: 4 ml
Dog 20-30 kg: 6 ml
Dog 30-40 kg: 8 ml
Dog over 40 kg: 10 ml
If necessary above-mentioned quantities can be doubled.
PACKAGING:
100 ml bottle with measuring syringe for dogs and cats
COMPLEMENTARY FEED FOR DOGS AND CATS