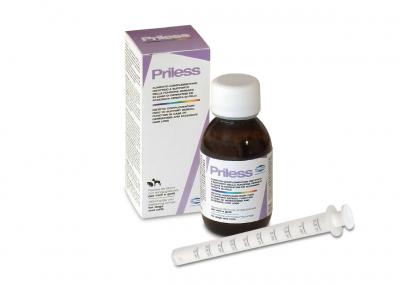 ADJUVANT TO SUPPORT DERMAL FUNCTION
dietetic complementary feed for dogs and cats
COMPOSITION
Fish oil, Ribes nigrum bud extract, Juglans regia bud extract, Viola tricolor hydroalcoholic extract, Ulmus campestris and Perilla frutescens.
USE
In the daily meal or orally immediately after the meal once or twice a day according to the chart:
Cat and Dog up to 10 kg: 2 ml
Dog from 10 to 20 kg: 4 ml
Dog from 20 to 30 kg: 6 ml
Dog over 30 kg: 8 ml
It is recommended to seek advice from the Veterinary Surgeon before use. It is advisable to prolong the use for up to 60 days. This period may however be extended over time according to the specific exigencies of every subject and according to the Veterinary Surgeon advice.
CONTAINS
100 ml bottle with measuring syringe/applicator
complementary feed for dogs and cats