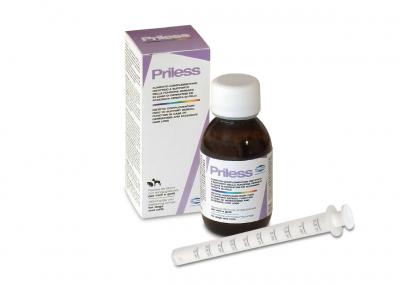 Complementary feed for dogs and cats with Ribes nigrum and Fatty acids Omega-3.
Palatable fluid emulsion for dogs and cats
COMPOSITION:
Malt (Barley malt extract), Fish oil, Ribes nigrum 4%, Juglans regia, Viola tricolor, Ulmus campestris, Perilla frutescens, Yeast products. ADDITIVES PER KG OF PRODUCT - NUTRITIONAL ADDITIVES: 3a700 Vitamin E (All-rac-alfa-tocopherol acetate) 2,000 mg, 3b607 Zinc (Zinc chelate of glycine, hydrate) 786 mg. SENSORY ADDITIVES: Rose hips tincture CoE 403 20,000 mg. TECHNOLOGICAL ADDITIVES: Preservatives. ANALYTICAL CONSTITUENTS (AS IT IS): Moisture 53.70% - Crude protein 4.88% - Crude fibre 0.01% - Crude fat 9.58% - Crude ash 0.43%. Essential fatty acids: Omega-3 43,212 mg/kg, Linoleic acid 3,750 mg/kg.
INSTRUCTIONS FOR USE:
Orally or in the daily meal once or twice a day according to the following quantities:
Cat and Dog up to 10 kg: 2 ml
Dog 10-20 kg: 4 ml
Dog 20-30 kg: 6 ml
Dog 30-40 kg: 8 ml
PACKAGING:
100 ml bottle with measuring syringe for dogs and cats
COMPLEMENTARY FEED FOR DOGS AND CATS