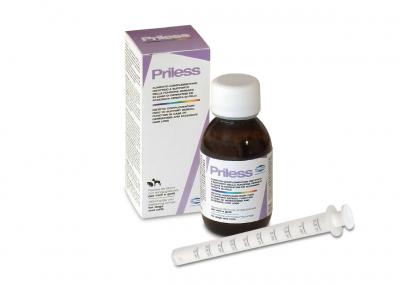 Complementary feed with a particular nutritional purpose for dogs and cats useful for the support of the dermal function in case of dermatosis of various origins and excessive hair loss.
Palatable fluid emulsion for dogs and cats
COMPOSITION:
Malt (Barley malt extract), Deionised water, Fish oil, Ribes nigrum (Gems extract), Walnut (Juglans regia L.) bud extract, Viola tricolor hydroalcoholic extract, Products obtained from the processing of herbs (Ulmus, Perilla). ADDITIVES PER KG OF PRODUCT: NUTRITIONAL ADDITIVES – 3a700 Vitamin E (all-rac-alfa-tocopherol acetate) 2,000 mg, 3b607 Zinc (Zinc chelate of glycine, hydrate) 786 mg. SENSORY ADDITIVES – Rose hips tincture CoE 403 20,000 mg. TECHNOLOGICAL ADDITIVES - E 262 Sodium diacetate 3,000 mg, E 202 Potassium sorbate 4,000 mg, E 281 Sodium propionate 2,500 mg, E 415 Xanthan gum 6,000 mg. ANALYTICAL CONSTITUENTS (AS IT IS): Moisture 53.70% - Crude protein 4.88% - Crude fibre 0.01% - Crude fats 9.58% - Crude ash 0.43%. Essential fatty acids: Omega 3 45,742 mg/kg, Linoleic acid 3,750 mg/kg
INSTRUCTIONS FOR USE:
Orally or in the daily meal once or twice a day according to the following quantities:
Cat and Dog up to 10 kg: 2 ml
Dog 10-20 kg: 4 ml
Dog 20-30 kg: 6 ml
Dog 30-40 kg: 8 ml.
It is recommended to seek advice from the Veterinary Surgeon before use.
Recommended period of use: up to 2 months
PACKAGING:
100 ml bottle with measuring syringe for dogs and cats
COMPLEMENTARY FEED WITH A PARTICULAR NUTRITIONAL PURPOSE FOR DOGS AND CATS