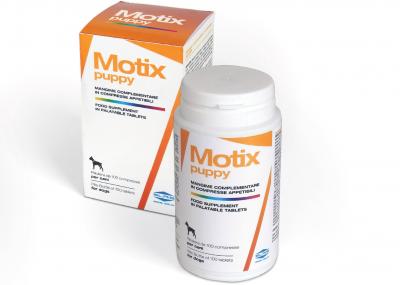 Complementary feed for dogs with Glucosamine and Chondroitin sulphate.
Palatable tablets for dogs
COMPOSITION:
Glucosamine from animal tissue 25%, Chondroitin sulphate 12.5%, Dicalcium phosphate, Linseed flour, Hydrolyzed collagen (Petagile®), Yeasts (Brewer's Yeast), Salts of magnesium organic acids (Stearic acid), Maltodextrin, Yeast products. ADDITIVES PER KG OF PRODUCT: NUTRITIONAL ADDITIVES: 3a700 Vitamin E (All-rac-alfa-tocopherol acetate) 10,000 mg, 3a300 Vitamin C 10,000 mg, 3b503 Manganese 2,500 mg (Manganese sulphate monohydrated), 3b605 Zinc 2,500 mg (Zinc sulphate monohydrated), 3b801 Selenium 10 mg (Sodium selenite), 3b813 (Selenomethionine produced by Saccharomyces cerevisiae NCYC R646) Selenium 5 mg. TECHNOLOGICAL ADDITIVES: E 460 Microcrystalline cellulose 160,000 mg, E 551b Colloidal silica 20,000 mg. ANALYTICAL CONSTITUENTS (AS IT IS): Crude protein 20.40% - Crude fibre 16.20% - Crude fat 2.11% - Crude ash 9.47% - Ash insol. in HCl 2.5% - Calcium 1.90% - Phosphorus 1.10% - Sodium 0.77% - Magnesium 0.63%.
INSTRUCTIONS FOR USE:
Orally or in the daily meal once a day according to the following quantities:
Dogs up to 10 kg: 1 tablet
Dogs 10-20 kg: 2 tablets
Dogs 20-30 kg: 3 tablets
Dogs 30-40 kg: 4 tablets
Dogs over 40 kg: 5 tablets
PACKAGING:
Pills-Bottle of 100 tablets
COMPLEMENTARY FEED FOR DOGS