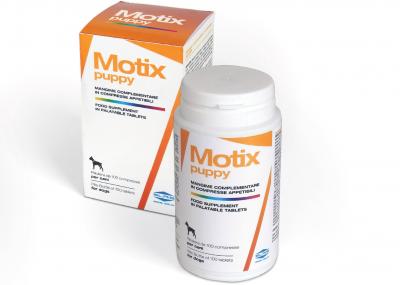 ADJUVANT IN MAINTAINING THE NORMAL PHYSIOLOGICAL JOINTS DEVELOPMENT IN ANIMALS IN GROWTH
palatable tablets for dogs
COMPOSITON
Glucosamine Sulphate, Chondroitin Sulphate, Petagil®.
USE
Give directly in the animal's mouth or mixed in the daily food, once per day, according to the following scheme:
Dogs up to 10 kg: 1 tablet;
Dogs 10-20 kg: 2 tablets;
Dogs 20-30 kg: 3 tablets;
Dogs 30-40 kg: 4 tablets;
Dogs over 40 kg: 5 tablets.
The use must be protracted for a 60 days period and can be prolonged in time according to the specific exigencies of every animal and to the Veterinary Surgeon advice.
PACKAGE
Pills-Bottle of 100 tablets 1000 mg each
COMPLEMENTARY FEED FOR DOGS