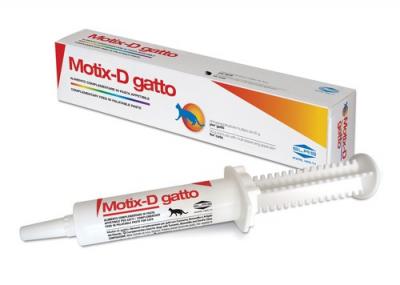 Complementary feed for cats with Turmeric, Boswellia and Devil's Claw.
COMPOSITION:
Malt (Barley extract), Glycerol, Hydrolysed animal proteins (chicken), Refined sunflower vegetable oil, Avovida® (Avocado, Soy). ADDITIVES PER KG OF PRODUCT: SENSORY ADDITIVES: Harpagophytum procumbens DC extract 100,000 mg, Boswellia serrata Roxb. Olibanum extract 50,000 mg, Curcuma longa L. turmeric extract (Curcuvet®) 10,000 mg. NUTRITIONAL ADDITIVES: Vitamins: 3a300 Vitamin C 10,000 mg. TECHNOLOGICAL ADDITIVES: E 262 Sodium diacetate 4,000 mg, E 202 Potassium sorbate 4,000 mg, E 281 Sodium propionate 2,500 mg, E 415 Xanthan gum 4,000 mg, E 551b Colloidal silica 10,000 mg. ANALYTICAL CONSTITUENTS (AS IT IS): Moisture 37.00%, Crude protein 3.40%, Crude fibre 0.01%, Crude fat 3.00%, Crude ash 3.01%, Sodium 0.06%.
INSTRUCTIONS FOR USE:
Remove decisively the stopper that closes the syringe. Give orally or in the daily meal 1 syringe notch (about 1 g) every 5 kg of weight, once per day.
PACKAGING:
30 g oral tube with multi dispensing applicator
COMPLEMENTARY FEED FOR CATS