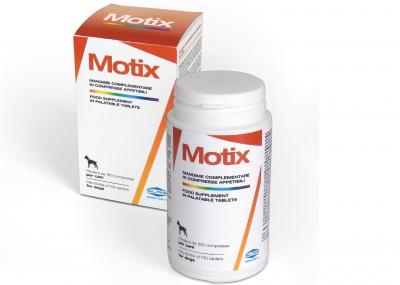 ADJUVANT IN MAINTAINING THE NORMAL PHYSIOLOGICAL JOINTS STATUS
palatable tablets for dogs
COMPOSITON
Glucosamine Sulphate, Chondroitin Sulphate, MSM (Methyl Sulfonyl Methane), Powder linseed oil, Petagil®, Quercitin.
USE
Give directly in the animal's mouth or mixed in the daily food, once per day, according to the following scheme:
Dogs up to 10 kg: 1 tablet;
Dogs 10-20 kg: 2 tablets;
Dogs 20-30 kg: 3 tablets;
Dogs 30-40 kg: 4 tablets;
Dogs over 40 kg: 5 tablets.
The use must be protracted for a 60 days period and can be prolonged in time according to the specific exigencies of every animal. It is recommended to repeat the periods of use several times during the year.
PACKAGE
Pills-Bottle of 100 tablets 1000 mg each
COMPLEMENTARY FEED FOR DOGS