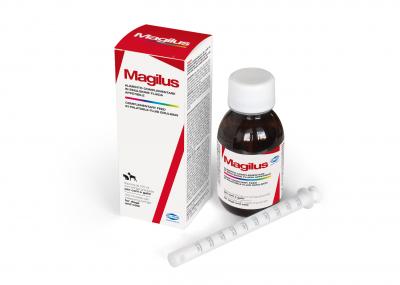 Complementary feed for dogs and cats with amino acids, vitamins, carnitine and taurine.
Palatable fluid emulsion for dogs and cats
COMPOSITION:
Malt (Barley malt), Linseed oil (Linum usitatissimum L.), Hydrolysed animal proteins (Chicken), Caramelised sugar, Magnesium chloride, Potassium chloride, Gamma Oryzanol (from rice bran oil), Lepidium meyenii Walp root powder, Rosa canina L. fruit powder, Octacosanol (from rice bran oil). ADDITIVES PER KG OF PRODUCT: SENSORY ADDITIVES - Flavouring compounds: 2b17012 L-Leucine 20,000 mg, 2b17010 L-Isoleucine 10,000 mg, 2b17028 L-Valine 10,000 mg. Natural products botanically defined: Trigonella foenum graecum extract 7,500 mg. NUTRITIONAL ADDITIVES - Vitamins, provitamins and chemically well-defined substances having similar effect: 3a316 Folic acid 30 mg, 3a370 Taurine 30,000 mg, 3a910 L-Carnitine 10,000 mg, 3a880 Biotin 12 mg, 3a672a Vitamin A 700,000 I.U., 3a820 Vitamin B1 20 mg, 3a825i Vitamin B2 (Riboflavin) 40 mg, 3a831 Vitamin B6 (Pyridoxine hydrochloride) 30 mg, 3a835 Vitamin B12 (Cyanocobalamin) 5 mg, 3a671 Vitamin D3 190,000 I.U. , 3a700 Vitamin E 2,000 mg, Trace elements: 3b108 Iron (II) chelate of glycine hydrate (Iron: 372 mg), 3b815 L-Selenomethionine (Selenium: 13.75 mg). TECHNOLOGICAL ADDITIVES - Preservatives: 1k202 Potassium sorbate 3,000 mg, 1a330 Citric acid 1,000 mg. Thickeners: E 415 Xanthan gum 3,500 mg. ANALYTICAL CONSTITUENTS (AS IT IS): Moisture 47.51% - Crude protein 11.43% - Crude fibre 1.16% - Crude fat 8.72% - Crude ash 5.74%.
INSTRUCTIONS FOR USE:
Orally or in the daily meal once a day according to the following quantities:
Cat and Dog up to 10 kg: 2 ml
Dog 10-20 kg: 4 ml
Dog 20-30 kg: 6 ml
Dog over 30 kg: 8 ml
Always leave water available to the animal.
PACKAGING:
100 ml bottle with measuring syringe
COMPLEMENTARY FEED FOR DOGS AND CATS