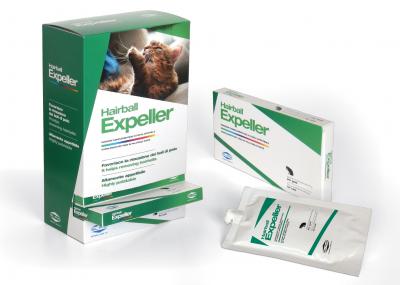 Complementary feed in palatable paste for cats
Frequent and meticulous grooming of the coat is a behavioral need for each cat. This daily activity causes a continuous ingestion of dead hair that can accumulate in the digestive system. Hairball Expeller is a complementary feed specific for cats useful in eliminating the hairballs from the stomach and gut.
COMPOSITION:
Malt (Barley malt extract), Cod liver oil, Refined vegetable oils and fats (Soy), Sugar (Saccharose). ADDITIVES PER KG OF PRODUCT: Vitamins: 3a700 Vitamin E (All-rac-alpha-tocopherol acetate) 50 mg. Emulsifiers: 1c322 Lecithins 20,000 mg. Preservatives: 1a262 Sodium diacetate, 1k202 Potassium sorbate, 1k281 Sodium propionate. ANALYTICAL COMPONENTS (AS IT IS): Moisture 18.80%, Crude protein 1.07%, Crude fibre 0.00%, Crude fat 50.29%, Crude ash 0.54%, Sodium 0.03%.
INSTRUCTIONS FOR USE:
Hairball Expeller is a highly palatable complementary feed that is easy to administer to even the most suspicious cats. It can be mixed with food or give directly in the animal's mouth initially once a day for 2-3 days, then twice a week. In the case of picky subjects, you can spread the paste directly on the paw so that the cat can easily take it during its normal daily grooming activities. The daily quantity for an medium-weight cat is a strip of about 4-5 cm, for cats of different weight it must be adjusted proportionally.
NET WEIGHT: 50 g