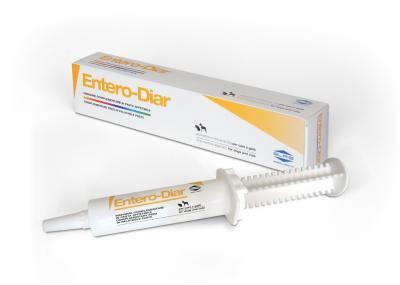 Complementary feed with a particular nutritional purpose for dogs and cats useful for the reduction of acute intestinal absorptive disorders. Indicated during acute diarrhea and subsequent periods of convalescence.
Palatable paste for dogs and cats
COMPOSITION:
Malt (Barley malt extract), Baobab (Adansonia digitata) dried fruit powder, Hydrolyzed animal protein (chicken)*, Potassium chloride, Monocalcium phosphate, Carob (Ceratonia siliqua L.) powder, Pectin, Sodium chloride, Potassium sulfate, Magnesium chloride. *High digestibility ingredients. ADDITIVES FOR KG: SENSORY ADDITIVES - Colourants: Caramel colours 15,000 mg. TECHNOLOGICAL ADDITIVES - E 202 Potassium sorbate 3,000 mg, E 330 Citric acid 1,000 mg. ANALYTICAL COMPONENTS (AS IT IS): Moisture 56.15%, Crude protein 2.10%, Crude fat 0.08%, Crude fibre 0.70%, Crude ash 6.90%, Ash insoluble in HCl 0.18%, Sodium 0.95%, Potassium 0.48%.
INSTRUCTIONS FOR USE AND RECOMMENDED PERIOD OF USE:
Remove decisively the stopper that closes the syringe.
Give orally or in the daily meal 1 syringe notch (about 1 g) every 5 kg of weight, once a day, for 7 consecutive days. In the first 3 days the products can be administer twice a day. It is recommended that a veterinarian's opinion be sought before use.
PACKAGING:
30 g oral tube with multi dispensing applicator
COMPLEMENTARY FEED WITH A PARTICULAR NUTRITIONAL PURPOSE FOR DOGS AND CATS